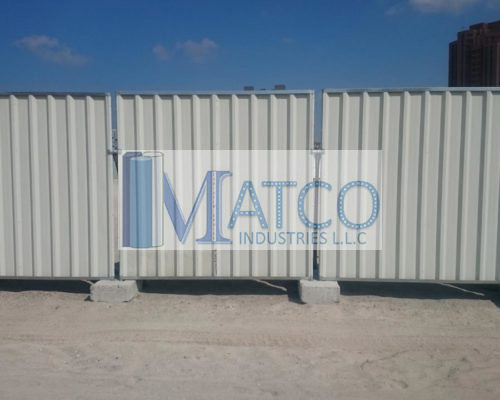 Temporary / Corrugated Fencing in Saudi Arabia
Are you in search of Temporary Fencing or Corrugated Fence in UAE (Dubai, Abu Dhabi, Umm Al Quwain, sharjah, Ras al Khaimah, Ajman, Al Ain, Fujairah)? Then, you have landed on the right page Matco Industry is a reputed and affordable Temporary fencing manufacturers and suppliers in UAE.
Since our inspection in 2012 in the Emirates of Umm Al Quwain in the UAE, we have gained customer's trust by offering them good standard products timely. Today, with an extraordinary global presence, we are engaged and committed to manufacturing and exporting durable, reliable and affordable temporary fencing, corrugated fence and other quality products across the globe.
Description
Temporary Fencing Panel or Discontinuous Fencing| Corrugated Fencing
Matco Industry Discontinuous (Temporary) Fencing Panels are primarily used for the construction site. These corrugated fencing can be made in both steel and aluminum, depending on the customer's requirement. In addition, we at Matco Industry can manufacture tailor-made fencing panel and fencing panel gates with a distinct color, dimensions and thickness.
Mainly we use Off White (RAL 9002), Orange (RAL 2004), Red (RAL 3002), Light Blue (RAL 5012), Dark Blue (RAL 5010), RAL 5002 EMMAR Blue, RAL 7046 Dark Grey, RAL 7036 Grey, RAL 7037 Grey, RAL 3002 RED, RAL 1014 light beige, RAL 1015 Ivory, RAL 9010 Pure White, RAL 2004 Orange, RAL 7015 Grey, RAL 6029 Light Green, RAL 6038 Green for these temporary fencing panels and any other color as per the client's request.
Matco Industry's high standard quality Temporary Fencing Panel or Discontinuous Fencing are supplied to every nook and corner of UAE such as Abu Dhabi, Al Ain, Dubai, Sharjah, Ajman, Umm Al Quwain, Fujairah and Ras Al Khaimah at a very reasonable price.
We also export to GCC countries like Oman, Saudi, Bahrain, Iraq, Qatar, Kuwait, and North Africa (Algeria, Egypt, Morocco, sudan,Tunisia, Western Sahara) etc.
Specifications of Temporary Fencing Panels
Fencing sheet Thickness: 0.40mm x 1.0-meter x 2.0 meter
Profile sheet Color:RAL 9002 offwhite
Thickness of the galvanized U-channel : 40mm x 40mm x 40mm x 1.2mm to 2.0mm
width of the galvanized U-channel :2.18 meter
GI Mill Finish Pipe Thickness :1.2mm to 2.0mm
GI Mill Finish Pipe Length: 2.2 meter
GI Mill Finish Pipe OD: 42mm
GI Clamp Thickness :3.0mm
Concrete Block: 600mm x 400mm x 200mm
Each Frame : Width x Height (2.15 x 2.0 meter = 4.30)
Matco Industry's Temporary Fencing Panel or Shinku or Discontinious fencing or Corrugated Fence or Fencing sheet or hoarding fence or fencing assembly has the specifications mentioned above. This measurement is only for your reference purpose. However, we allow our clients to customize the fences according to their requirements. We tailor-made according to the client requirements, site conditions such as the pressure of the wind. We are the top-notch manufacturer and supply fencing solutions and systems as per the clientele requirements. We have a unit of production of Galvanized C Channel & Corrugated Profile Sheet used in installing steel | aluminum fencing, metal barrier, construction site – barricade fencing, perimeter fencing, welded chainlink fencing. Also, we are the leading fencing company in Dubai for all types of metal fencing.
We also export this fencing sheet, hoarding panel, discontinuous fencing sheets, temporary fencing, and accessories all over UAE, Oman, KSA, Saudi, Iraq, Kuwait, Bahrain and all other countries.
Features of Temporary Fencing
Matco Industry provides standard wire-mesh fence panels and anti-climb models.
We also provide tailored dimensions
Galvanized steel is used to make the fence
It is fireproof, strong and durable
Stabilizing blocks are available in recycled materials or concrete.
Can also be customized as per specific project needs.
Are easy to install as well as remove.
Provides working as high-strength fencing that meets industry standards.
Can be provided with/without frames.
Can be made available in galvanized/vinyl coated finish for added durability
We have standard wired network components, a wall with an especially close wire network (against climb), or forms with sheet metal dividers in stock. We additionally offer various sizes. You can likewise pick between concrete bases or feet made of reused material. The wonderfully light standard fence component weighs around 21.5 kilograms. It is 3.47 meters wide and two meters high.
You can make higher protecting, in addition to other things, for better security behind the stage or in the clean regions. This is made conceivable by mounting a more modest unique size fence component on a standard size one. The stirred steel gives them steady, flame resistant, strong, and dependable properties.
Temporary Fencing Applications
Construction Sites
Security Control
Crowd Control
Paving
Landscape Protection
Beach Events
Outdoor Concerts
Fairs – Carnivals
Sporting Events
Special Events
Landfills/li>
Pool construction
Crowd control
Send Your Inquiries:
on metalandmachine@gmail.com or call/WhatsApp +971-504328270 (Mr Saurav) for most economical pricing.
Besides, we are proud to supply metals for various projects of Fencing in UAE. We have a team of resourceful engineers who can help you install and deliver high-end products.