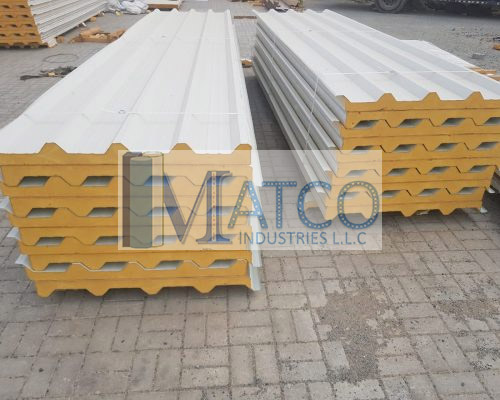 Sandwich Panel for Roof And Wall in Saudi Arabia
The executive team of Matco Industry provides several chances for metal production, exporting, and providing to various regions of the United Arab Emirates. We build our package after carefully analyzing the needs of the client and taking current events into account. In the UAE, you may choose from a variety of Sandwich Panel roof options, including corrugated steel or metal roof tiles. Both walls and roofs may be covered with our acoustic sandwich panels.
Description
Matco Industry is a prominent supplier of sandwich panels in the UAE offering its service in Qatar, Saudi Arabia, and Dubai.
Sandwich panels for the roof and wall made by Matco Industry are provided to every nook and cranny of the United Arab Emirates, including Dubai, Sharjah, Ajman, Abu Dhabi, Ras Al-Khaimah, Al'Ain, and Fujairah. In addition, we sell to African nations such as Algeria, Comoros, Namibia, Sudan, Tunisia, Cameron, Nigeria, Uganda, Eritrea, Libya, Somalia, Ethiopia, Tanzania, Djibouti, Kenya, Mozambique, South Sudan, and others in the GCC, including Oman, Saudi Arabia, Iraq, Jordan, Kuwait, and Bahrain.
What exactly is a Sandwich Panel?
Sandwich panels are used as roof boards for various types of buildings, including labor camps, shopping centers, and schools.
Additionally, they are used for prefab homes, mobile homes, and chilly rooms like freezers and coolers. Sandwich panels are compact, cost-effective, easy to ship, and simple to install.
The sandwich panels are a stunning roof and wall covering system with unmatched protective values. We are top supplier of sandwich panels for very good reasons. Our sandwich panels have been meticulously created by ISO standards and are available in a broad range of foam center thicknesses to satisfy any customer need. We try to express the ideal cladding arrangement while remaining mindful of the assumptions that different clients have different expectations for energy productivity. Each panel is designed with varying lengths to speed up the setup process and ensure maintainable construction.
Sandwich panels are also known as laminate sandwich panels, insulated sandwich panels, Sandwich panel roofs, Sandwich panel dividers, Tiles Sandwiches, PUR Sandwich sheets, PIR Sandwich boards, Double Skin Panels, and Single Sheet Sandwich Boards. Depending on the protective materials, we provide three different types of sandwich boards: Polyurethane (PU), Polyisocyanurate (PIR), and Rockwool. Accessible in both level and wrinkled profiles are the two outermost exterior surfaces. The extensive range of coatings, forms, sizes, and dimensions complements an excellent development strategy. Recently, the Dubai Civil Defence (DCD) validated our PIR boards, indicating that they are completely safe for use in scenarios needing strong fire security.
Matco Industry's leading suppliers stand out from the competition because of their extensive selection of fabrication choices and competitive sandwich panel prices. Our in-house building workshop is staffed with teams of professionals and experts that can customize and help deliver any type of PUF Sandwich Panel, Insulated Sandwich Panel, EPS Sandwich Panel, PU Insulated Panel, Rockwool Panel, or Composite Sandwich Panel to your door. For all different sandwich panel requirements, you may also get in touch with Matco Industry.
You may always rely on us for competitive pricing and offers. All types of insulated sandwich panels such as PUF sandwich panels, EPS sandwich panels, PU heated panels, and sandwich panel composites may be made to order and delivered right to your door by our skilled staff. Additionally, you may get in touch with us for any type of Sandwich.
Sandwich Panel Types Depending on Surface Finish Types:
Sandwich Wall Panels That Are Flat
Corrugated Roof Sheets
Sandwich Panel Layers
Sandwich Panels from Matco Industry are produced with three layers: an insulating core, an exterior sheet, and an interior sheet. Your structures' three layers provide waterproofing, heat and acoustic insulation, resistance to fire, and resistance to loading.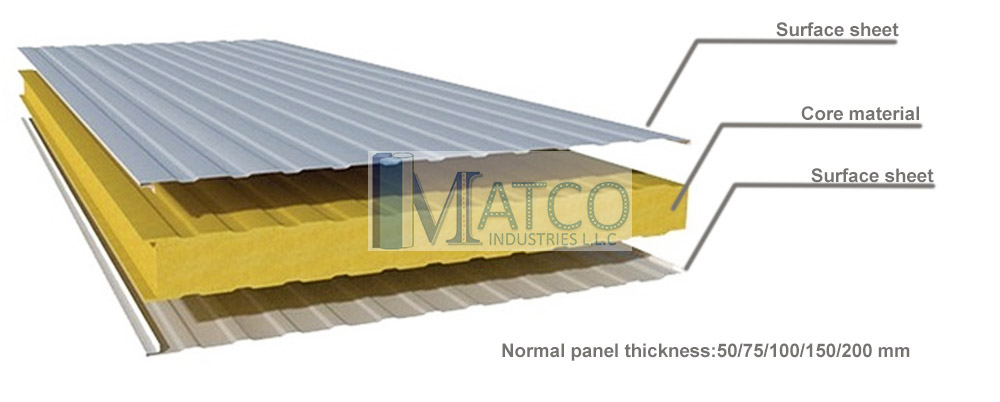 Dimensions of Sandwich Panel:
Top Detail:
35/200 mm & GMI 45/250 mm
Thickness: 50mm
Covering width: 1000mm
Thickness Specifications:
Top-Bottom Sheet: – 0.40 to 0.90 mm
Width of the Sandwich panel: 1050 mm
Covering width: 1000 mm
Length of the sandwich panel 12 mt
Bottom Skin Detail:
Color-coated steel sheet
Galvanized Pre-Painted
Low Rib Profile of Galvanized Mill Finish,
Alu Zinc PVDF also well as Polyester Coated Alloy Steel
Aluzinc
Mill finish aluminum
Aluminum Polyester Coated
GI PVDF Coated
Color coated Aluminum Profile
GI Polyester Coated
Aluminum Foil as the bottom
Aluminum PVDF Coated
Sandwich Panel Application Areas:
Commercial Buildings
Residential Buildings
Cold Storages
Power Plants
Processing Plants
Sports Facilities
Shopping Malls
Agricultural and Husbandry Buildings
Industrial Buildings
Sandwich Panels Benefits
Fast and Simple Installation: Unlike conventional frameworks, sandwich panels created on a continuous production line are totally practical and ready-to-assemble parts that are prepared in the relevant sizes, protection kinds, and colors based on the design of your workplace. At the production facility, design and quality control procedures are conducted in advance.
Due to the sandwich panels' few seams on large areas, installation is quite straightforward. Modern transport apertures and motorized lifting equipment significantly reduce the time required for transporting and cladding. In this way, your project is completed quickly, allowing you to save both time and a significant amount of money.
Buildings' Aesthetic Appearance: From a distance, your structure resembles a flawless mirror. For the design of your buildings, we always develop new plans for our sandwich panel systems. With sandwich panels created in a variety of tones and with a framework that enables them to be placed uniformly, vertically, or angularly, you can give life to the outside partitions of your building and acquire an attractive look. The sandwich panels may be used to create a variety of patterns because they can also be used in interior spaces.
Matco Industry sandwich panels prevent the spilling of air and water due to their perfect joint detail.
The advancement of warm protection is guaranteed, yet heat is never lost from your building. As a result, you even out the heating and cooling in your building and ensure energy efficiency.
Sandwich boards have a waterproof design that ensures dynamic hydro-protection against everyday elements like snow and rain and precludes stickiness and shape. They provide a stable and comfortable atmosphere within your project while hindering consumption on the pile-bearing constructions. Your building becomes more robust and long-lasting.
High Fire Resistance: When exposed to flares, sandwich panels perform superbly. Some kinds exhibit fire resistance to temperatures that reach and even exceed 1000° C.
Sandwich materials are used in the construction of a structure, which increases the likelihood that personnel and equipment will be secure. Nevertheless, they must take into account the building's size, height, and desired level of fire resistance.
Perfect Thermal Insulation: Sandwich Panels have excellent thermal insulating capabilities. But depending on the kind and depth of the materials used, the material's thermal resistance versus its thermal conductivity fluctuates.
Sandwich panels are used in the construction of a structure to reduce the amount of energy needed for heating and cooling processes, which results in lower overall energy expenses. Additionally, when properly implemented, they reduce the risk of form arrangement and excess moisture that results from heat development and accumulation. The amount of thickness of the protective material used in the sandwich structure is determined by the building's purpose, environmental factors, and requirements for the warm and weight-bearing limits.
Sound insulation: Soundproofing materials are essential in applications that generate audible levels of noise. They help keep different areas of an office quiet and comfortable for workers and passers by isolating the source of noise from those areas.
Cost-Effective: Sandwich structures are an economical option since their centre components are less expensive than other composite supports and easy to co-fix to the skins in one injection cycle (for example, resin imbuement). Additionally, their inherent solidity lowers their maintenance expenses.
High Strength-to-Weight Ratio: Sandwich panels offer superior solidity-to-weight ratios than strong coverings. They may subsequently support equal loads with less underpinning material, which can result in decreased material purchasing and shipping expenses.
The UAE's major cities, including Dubai, Sharjah, Ajman, Abu Dhabi, Ras Al-Khaimah, Al'Ain, and Fujairah, are served by Matco Industry, which manufactures and delivers bespoke sandwich panels roof and wall to meet client needs. In addition, we sell to African nations such as Algeria, Comoros, Namibia, Sudan, Tunisia, Cameron, Nigeria, Uganda, Eritrea, Libya, Somalia, Ethiopia, Tanzania, Djibouti, Kenya, Mozambique, South Sudan, and others in the GCC, including Oman, Saudi Arabia, Iraq, Jordan, Kuwait, and Bahrain. We are regarded as a leading provider of sandwich panels in these areas.
Grade Specifications
Aluminum Alloy: 3105, 3003, 1100, 1050
Aluminum Pre-painted and Mill Finish color coated
Temper: H16
Galvanized Steel Coil As per ASTM A653
Lock maintaining quality with Zinc coating: G60 to G90 or 180 to 275 GSM
Top Paint: 5 Micron Primer + 20 Micron paint (5+20 Micron)
Bottom Coat: 5 Micron Primer + 7 Micron Paint (5+7 Micron).
Alu Zinc ASTM A792 with Zinc Coating Z80 to Z220
Top Paint: 5 Micron Primer + 20 Micron paint (5+20 Micron)
Bottom Coat: 5 Micron Primer + 7 Micron Paint (5+7 Micron)
RAL Hues of Sandwich Panel Roof and Wall
RAL 5002 – EMMAR Blue
RAL 1014 – Light Beige
RAL 9002 – Off White
RAL 1001 – Beige
RAL 6029 – Light Green and more
RAL 5012 – Light Blue
RAL 5010 – Dark Blue
RAL 7046 – Dark Grey
RAL 7036 – Grey
RAL 7037 – Grey
RAL 1015 – Ivory
RAL 9003 – White
RAL 2004 – Orange
RAL 9010 – Pure White
RAL 3002 – RED
RAL 3020 – RED
RAL 7015 – Grey
RAL 6038 – Green and more
Matco Industry manufactures and supplies sandwich panel roofs and walls. We offer our services in the UAE, including those in Dubai, Sharjah, Ajman, Abu Dhabi, Ras Al-Khaimah, Al'Ain, and Fujairah. As requested by our clients, we can provide the panels in bespoke colors.
PU Thickness: 30 mm to 150 mm
Standard PU Thickness: 50 mm/75mm/100mm for roof & wall sandwich panel
Metal PU Foam Polyurethane B2, B3, Polyisocyanurate PIR and Rockwool
PU density: 35 to 38 Kg
Sandwich-Panel Roof
A building's roof is one of its most important architectural components and the area that is most affected by weather conditions including snow, rain, and storms.
Sandwich rooftop panels from Matco Industry provide thermal, humidity, water, sound, and fire resistance, especially for the roof coverings of mechanical constructions. By doing this, you strengthen your building's defenses against powerful natural disasters.
Matco Industry provides PUR, PIR, Mineral Wool, and EPS-protected roofing panels in 3 and 5-rib frameworks, with conventional and hidden screwed options, by the needs that financiers and designers experience for the buildings. Its product portfolio includes membraned roofing panels for low-incline balcony rooftops, as well as GRP rooftop panels, used for animal and poultry.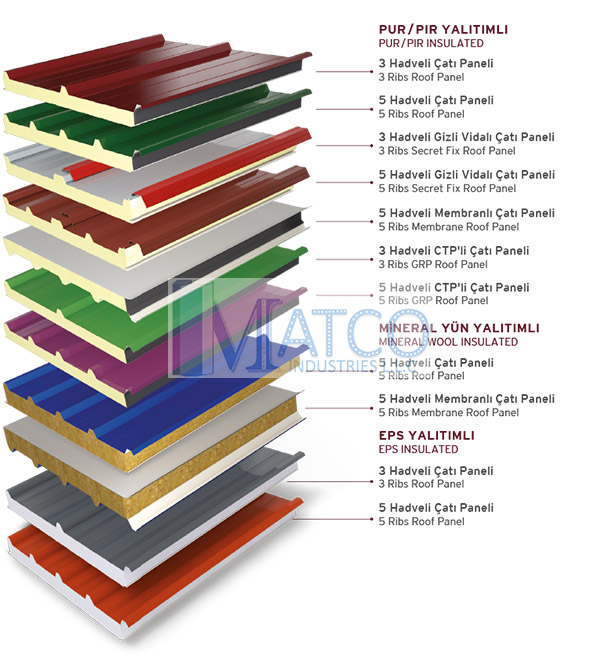 Sandwich Panel Wall
Sandwich wall panels from Matco Industry provide trustworthy and fashionable answers for both investors and designers that are appropriate for any demand and engineering. With its goods and services, Matco Industry participates in a variety of public and international activities while producing wall panels with various protection, ability, and shading choices. Shops, factories, contemporary offices, and warehouses are just a few places that use sandwich panel walls.
The sandwich panel wall from Matco Industry is PUR, PIR, and Mineral Wool, including EPS protected, as required by the criteria for thermal, humidity, acoustic protection, and resistance to fire. The Sandwich panel wall may be applied upward or equally for the outside aspect of your building and be used internally as a segment separator and roof. For your building, Matco Industry's sandwich panel wall with outer or inner fastening joint detail provides both sturdy and fashionable divider options with a variety of surface types and profiles to choose from.
Prices for Sandwich Panels
The sandwich board is a durable and affordable choice for several constructions, from plants to stadiums, from retail malls to swimming pools. With its new areas of execution, such as military structures, horticulture structures, assembled lodging, job site structures, storehouses, and dwellings, the sandwich board moves to the cutting edge as an item beside modern buildings and social regions.
What class does your structure belong to? If you don't have specific information, you may tell us about the usage highlights so that we can provide you with the appropriate product.
Sandwich panels are provided in three layers—an internal sheet, an exterior sheet, as well as an insulation core—guaranteed to protect your constructions from heat, sound, and load while also guaranteeing water resistance, fire resistance, and load bearing. Prices for sandwich panels are controlled by:
Metal thickness, internal and exterior sheet types the internal and exterior sheet covering type, and colour0:
Protection center sort and thickness
the total amount of the request
You can consult with us on this data by filling out the inquiry form or calling our customer service line at +971561349565.
Sandwich Panels from Matco Industry: Key Features
Sandwich Panels from Matco Industry are well known across Dubai not only for their high quality but also for the exceptional features that go along with them. Consequently, consider the benefits of our laminated sandwich panels.
Robust and Rigid
Longevity
Easily Maintained
Chemical Defence
Flexibility in Dimensions
Extraordinary Thermal Performance
High tolerance to the Middle East's challenging climate conditions
Best for Locations in the Middle East
Where Do We Distribute Sandwich Panels?
We trade our goods to Saudi Arabia, Kuwait, Iraq, Bahrain, Qatar, Sri Lanka, Jordan, and Yemen in addition to providing DOORSTEP DELIVERY in the neighborhood, including UAE – Dubai, Sharjah, Ajman, Fujairah, Ras-Al-Khaimah, Abu Dhabi, and Al'Ain.
We take into account a wide range of clients in the Middle East as well as continually work to provide our clients with creative solutions, therefore broadening our opportunities globally.
Speak to the Leading Sandwich Panel Supplier in Dubai
It should be easy to choose the appropriate sandwich boards now that we have given you a sense of our conclusions. We trust in customer loyalty since we are considered Dubai's leading sandwich board supplier. We have a helpful customer service team that will respond to any of your questions.
Please email us at metalandmachine@gmail.com with any queries you may have about the sandwich board worth or for further information.
You may contact our experts with general questions by calling or using WhatsApp at + +971561349565. We promise to respond in an instant to answer your queries as soon as possible.