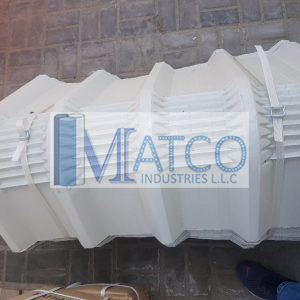 Ridge Cap For Roofing in Saudi Arabia
Matco Industry is dedicated to producing and exporting a wide variety of roofing and siding materials. We have a group of engineers who take care of our customers' demands. All raw materials are handled and verified prior to product manufacture in order to receive a certification of high-quality goods. Delivering high-end items to customers is guaranteed to be of great quality.
We are renowned as Ridge Cap Suppliers for offering clients individualized services. We have cutting-edge machinery and tight management to guarantee that all items are created correctly and adhere to higher standards of quality. To ensure that the consumer receives the best products, all items undergo expert testing after manufacture.
Description
Ridge Capping: Why Is It Important?
The roof's pillars are also meant to represent the ridge capping. The entire structure may crumble if they are incorrect. As the seams where the two ends of the roofs join are covered with triangular-shaped tiles, this term is utilized. It is typically utilized on an inclined surface. It is a crucial component of any sort of roofing. According to the client's directions, we can simply design this product in our warehouse. Clients are free to request any form, size, dimension, etc.  Your items will be delivered by our staff in a more timely and precise manner.
Ridge capping has a wide range of implications. However, the following list includes some of the more well-known ones:
It stops rainfall from infiltrating a roof's lower layers, which might damage the entire roof framework.
It makes sure that the debris doesn't fill the lower levels since it might clog the gutter and lead to leaks.
It may be the best choice if you want to give the roof a lot of strength because it is utilized in joints to protect the building.
For a more effective ridge cap, Matco Industry provides a range of options.
In addition to this, we are renowned as suppliers of decking sheets. Any of our company's metal goods are available upon request. We promise to deliver the goods on schedule and in superior packaging.