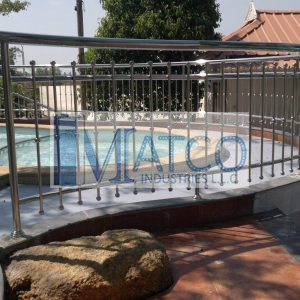 Swimming Pool Fence in Saudi Arabia
Matco Industry is the well-known leading manufacturer, exporter, and distributor in many different countries, known for its best pool fences with topmost quality. If you require a pool fence, you can contact the professionals at Matco Industry and order your requirements. With the help of our staff of experts, you may create and have erected the exact fence you're searching for.
You can get the most functional aluminum pool fence for a fair price. We provide our customers with a variety of product sizes so they can completely enclose their swimming pool. As the leading provider of swimming pool fences, we have a huge assortment of color-coated metalwork that will perfectly complement the design of your house or outdoor space.
Additionally, we provide our clients with specialized services, so you may contact our staff anytime and inform us how to design your pool with elements and complete your project with satisfaction.
Description
Visit Us for a Wide Selection of Fencing Designs
You are welcome to chat with our personnel and let them know what you require; they will certainly put what you need first. To satisfy the demands of our clients, Matco Industry adapts fence designs. We give you the finest solution possible by utilizing our highly skilled team.
We are the finest alternative if you're seeking PURLIN in the UAE. You may just give us a call if you're interested in learning about our pool fence and installation procedure. Our staff will answer all of your inquiries during a single phone conversation.