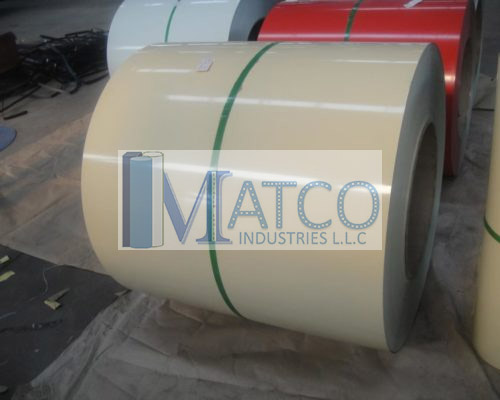 PPGI / Prepainted Galvanised Steel Coil in Saudi Arabia
Matco Industry is one of the top suppliers and producers of metal goods in every nation. You are warmly invited to purchase prepainted galvanized steel coil (PPGI steel) or color-coated steel coil from us. Modern technology is available in our warehouse to produce the most dependable goods. We won't regret purchasing goods from our business. Our items go through rigorous tests to ensure that the goods we supply to our consumers are of the highest caliber. We have a wealth of seasoned personnel that are committed to making ourselves one of the top suppliers of Ppgi coil in many different countries.
Description
How Are PPGI Coils and Steels Made?
The principal method for creating PPGI is to repeatedly immerse galvanized steel in a hot-dip zinc solution. Metals are effectively protected from corrosion by this coating. The basic steel receives cathodic and barrier protection, which considerably slows the rate of corrosion. The items become more durable as a result of this. The product gains the fortitude necessary to contend with this hostile environment.
Application of PPGI Coils or Steels Prepared
Prepainted galvanized steel coil applications:
Building components include the roof, ventilation duct, handrail, partition panel, etc.
In the production of electric appliances like the microwave, washer, and refrigerator, among others.
Transport: a road sign, an oil tank, etc.
Farming: a barn; etc.
Others include gaming machines, vending machines, etc.
To meet all of your needs, we provide you with a range of steel items. If you require any of the metal goods from our end, please let us know. We are happy to provide you with coils and sheets that have been specially made. Call our team of professionals if you require Sandwich Panel, and they will return your call without a doubt. Each good will have a fair price, you can be sure of that. For any help or services, get in touch with us.