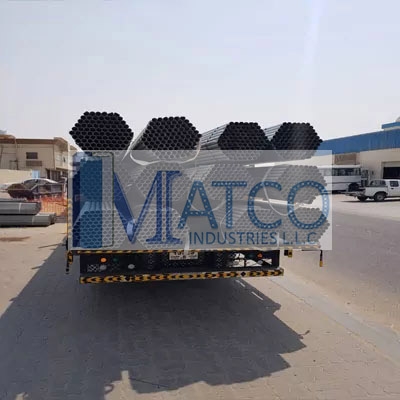 GI Galvanised Steel Pipe and Tube in Saudi Arabia
Galvanized steel pipes and tubes are readily available from Matco Industry. This sort of tube is mostly made by covering it with a layer of zinc. In this case, the coating shields the steel against rust. Both internal household usage, like plumbing, and outside building sites can make use of these goods. We are among the best-known suppliers of galvanized steel pipes and tubes.
We have the newest technology at our disposal to provide our customers with high-quality items. Our galvanized steel pipe and other steel products are made by adding metal to a suitable liquid zinc alloy. Another name for this procedure is hot-dip galvanization.
This reaction results in a chemical bond between the two metals, and the result is long-lasting.
Description
Important Applications for Galvanized Steel Tubes and Pipes
Irrigation and Agriculture
Stainless Steel Fences
Driveway barriers, road obstacles, and temporary fencing
Steel windows and gates Roadside railings
Fabrication and construction of structural and water Pipelines
Systematic Sewerage
Energy Pipelines
Crude oil piping, piping in oil refineries
Galvanization has several uses in the industry since it increases a metal's ability to resist corrosion. We specialize in providing our clients with completed goods of the highest caliber. Our goods have a variety of uses. Galvanized steel is more affordable than regular pipes and tubes; therefore, you may get this item for a reasonable cost. You may get in touch with us if you have any questions regarding Pipes and Tubes Suppliers.