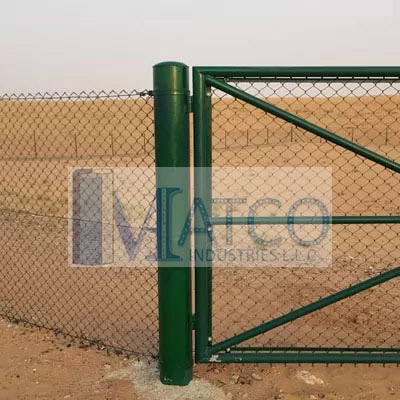 Chain Link Fence in Saudi Arabia
In the United Arab Emirates, USA, Egypt, and in many countries Matco Industry is one of the most common, diverse, and well-known suppliers and producers of chain link fences. We offer you high-quality goods that have undergone thorough processing and manufacturing. High-caliber workers at Matco Industry create custom wire and mesh products based on the needs of their customers. Because of this, we meticulously follow all the international and national norms and requirements for all of our goods.
Description
If you're looking for a customized, robust, and safer Chain Link Fence? Where can you get one? Then look no further than Matco Industry, the top provider of excellent chain link fencing in all countries and one of the world's leading producers.
Chain link fences used in both residential and business applications at Matco Industry. Matco Industry Solutions provide a safer and more effective separation solution thanks to cutting-edge production technology and creative product design protections.
A chain link fence, also known as diamond wire mesh, a hurricane fence, or a hurricane fence, is one of the more durable and cost-effective types of fencing that offers you and your assets the highest level of security. This reliable fence option is made with several metals weaved by the chain link fence machine.
Chain link fence is separated into two kinds, namely Galvanized and Vinyl Coated Chain Link, based on differing coatings. Steel wire is woven and joined in the shape of diamonds to create chain link fences. Chain link fabric maintains an open aspect and does not obscure what can be seen beyond the fence. Chain link fencing has a number of benefits that appeal to both business and residential sites. For high-security requirements, razor-sharp wire and fencing made of barbed wire may be put at the very top of the chain link fence.
Common Specifications for Chain Link Fencing
The chain link fence is made by Matco Industry using the materials listed below:
Steel wire that has been hot-dipped galvanized and PVC inside in the color green Hot-dip galvanized steel wire
50mm to 5.0mm in wire diameter
25 x 25 mm, 50 x 50 mm, 63 x 63 mm, etc.
Size: Length (8, 10, 15, and 20 meters, as usual)
Height (0.5 to 6 meters)
Fence link chain with twisted and knuckled edges
Steel wire with a PVC coating
Barber net
Sharp wire
PVC cable
Types of Chain Link Fencing Using Galvanized Wire
Chain link fence with PVC coating
Chain link fence made of stainless steel and galvanized wire
Three Alternatives to Treatment
A Chain Link Fence's Features
Easy Installation: Using modular cinching equipment makes installation easy and rapid. This eliminates the need for on-site welding or manufacture, which lowers costs.
Installation on a Slope or Gradient: The fence is more versatile since it can be easily stretched to cover rocky mountain terrain.
Logistics-friendly: Chain link material is rolled up in compacted form, making it simple to handle and transport.
Longevity: Available in a variety of covering options depending on the local climate and site conditions to help prevent erosion from shortening its lifespan. Options for covering: PA6 with Zinc EcoZal (Zn 90% + Al 10%) PVC Fusion Bonded.
Different Mesh Size: Depending on the application and security needs, the mesh size may be changed.
Transparent Design: The basic structure of a fence made of chain link is a weaving design that ensures the safety of the property while providing an unobstructed view from either side of the walled area.
Low Maintenance: Because chain link fences are electric and penetrate PVC coverings, the risk of rusting is completely eliminated, necessitating minimal maintenance.

Chain Link Fencing | Mesh Fencing | Wire Fencing in Dubai
The following method is used by Matco Industry to make the installation process for steel fences much easier and quicker. The fence is secured thanks to this process. Wires are bent together to form a smoothed-out winding shape, which is then used to construct chain-link fences. Chain link or wire fences are sometimes known as cyclone gates or diamond mesh fences as an immediate consequence of this.
When the wire reaches the farthest end of the fence, it is contorted continuously in a spiral around the cutting edges until the wire is cut. When the cables are compressed in a spiral during the succeeding cycle, the entire fence is destroyed.
As the second wire is wrapping and contorting, this interaction is repeated, creating a cover. A tool is then used to lock the two ends together after a few additional bends are added to strengthen the junction.
We are among the top suppliers and manufacturers of fences in the UAE.
We provide our customers with a variety of fence styles, including chain links, welding mesh panels, and others.
For the protection of your yards, homes, kennels, barns, farms, borders, etc., get a bespoke product.
The wire's color may simply be changed.
Get professional guidance by following their lead.
Using cutting-edge technologies to create and link various kinds of wire.
Additionally, we provide cast iron and aluminium fences for use as boundary barriers, road dividers, etc.
Design a fence with a range of heights and dimensions.
Obtain assistance with the installation.
We are the finest option if you're seeking temporary fencing in the UAE & USA. With the help of our qualified engineers, we can provide you with the finest fence options. With our team, you will receive an appropriate company for every add-on function. You may select any color for your wire since we tailor our products to our client's requirements. Customer satisfaction is our top priority. Our engineers are on hand to provide complete solutions throughout the whole procedure.
STANDARD SPECIFICATIONS
 

Mesh Size

(mm)

Wire Diameter

(mm)

 

Coating Standards

 

Fabric Length

(Meters)

Galvanized
PVC Coated
25 x 25
2.00  – 4.00

(As per

BS EN 10218-2)

ID 1.40/OD 2.00 –

ID 4.00/OD 5.00

(As per

BS EN 10218-2)

Galvanized: ASTM 392 Class 1 & 2

ASTM A641 Class 3,4,5 / A,B,C

BS EN 10244-2 Class A,B,C & D

PVC Coating: BS EN 10245

10 – 25
50 x 50
65 x 65
75 x 75
Post Section
Diameter
Coating
Circular hollow Section
32-150mm

(ASTM A53 & BS EN 1387)

Hot Dip Galvanization:

300GSM to 610GSM

(ASTM A53, ASTM F1083 & BS EN 1461)

PVC: Min 250 Microns

Polyester Powder Coating:

60 – 80 Microns