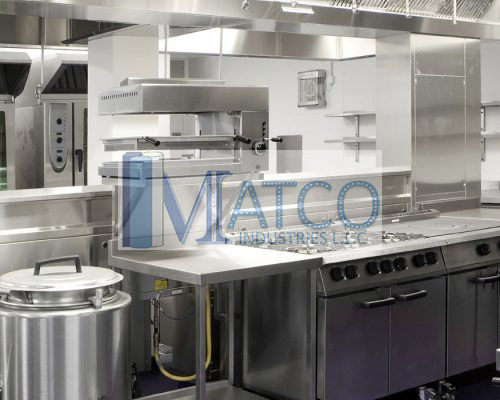 SS / Stainless Kitchen Equipment Fabrication in Saudi Arabia
Matco Industries is renowned for its ability to provide fabrication services of the highest caliber. Designing and fabricating stainless steel and stainless steel kitchen equipment is our area of expertise. We have a group of skilled engineers that can create kitchen equipment that meets customer needs. We guarantee that the appliances will arrive on schedule.
Your preferred complete varieties of kitchen equipment are created and made by professionals.
We provide a variety of supplies and furnishings, such as stainless steel tables, corporate sinks, ventilator hoods, and other items utilized in both household and commercial settings.
Description
Why Should You Pick Us?
We provide the best products we can, which are appropriate for many applications and meet the various needs of our clients. We ensure that the final product we deliver to you is of the highest caliber.
Hotel Kitchen Appliances
Equipment for Restaurant Kitchens
Kitchen equipment for hospitals
Catering Equipment, Industrial Kitchen Equipment, and Food Court Equipment
Matco Industry is dedicated to providing the finest quality products and value-added services to its clients. To handle any type of stainless-steel fabrication or production of specialized appliances for kitchens, our manufacturing factory is completely tech-equipped. We also maintain a sizable area for the storage of different fencing equipment in every nation. Any type of fabrication may be taken on by our competent, professional specialists, who guarantee to manufacture the products with a high level of quality and perfection.