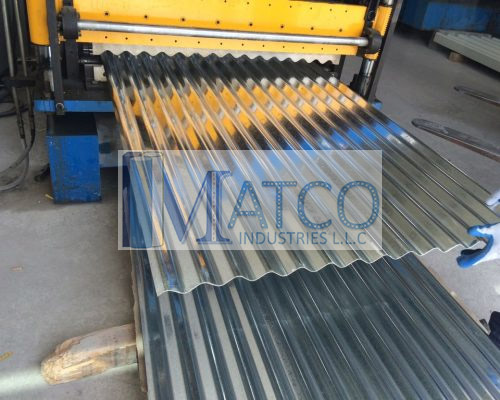 GI / Galvanised Corrugated Sheet in Saudi Arabia
Our galvanized corrugated roofing sheets are the perfect answer, whether you're constructing a new stable or renovating an old storage facility.
In order to produce a hot-dipped and GI CORRUGATED SHEET, Matco Industry has access to a wide range of cutting-edge technology. To give you the best metal goods, we have a skilled team of laborers. We are regarded as one of the best suppliers of Gi galvanized corrugated sheets. You may choose from various coating weights, spangle sizes, and metal roofing goods. When it pertains to roofing as well as fencing, these sheets for roofing are steadily rising in popularity.
Description
The following are the main advantages of employing galvanized roofing sheets:
Quickly controlling rainfall, handling any weather, and making things rust-free.
They are not susceptible to pests, algae development, or the weather outside.
These sheet packs are far less expensive than roofs made of asphalt shingles.
Used to increase durability.
Galvanized corrugated sheet characteristics:
a strong tensile capacity
Corrosion-resistant Eco-friendly
greater longevity
Lightweight
free of rust
Outstanding abrasion and sticking resistance
Through the use of a zinc-iron alloy, the steel is shielded from corrosion and moisture by forming a protective coating around it. An experienced in-house manufacturing staff that can produce high-quality goods fit for a variety of uses is used by Matco Industry. In addition, our staff is skilled in producing the Single Skin Profile Sheet. We give the best items in accordance with the needs of the customers by comprehending their requirements.