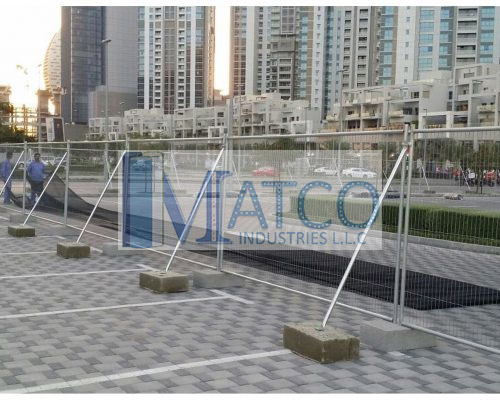 Heras Fencing in Saudi Arabia
Throughout the UAE, Matco Industry provides you with a sturdy and reliable fence system. For added protection, our Heras Fencing system is simple to install. We provide our products for both household and commercial uses. You can rely on us to deliver the highest caliber goods. We are the one-stop shop for all of your fence requirements. If you wish to fence a building site, use our service to create a secure area and prevent unwelcome situations.
Description
The Value of Heras Fencing in the Home and Business
One of the best options for safeguarding work sites, structures, traffic, parking management, and other locations is Heras Temporary Fencing.
This kind of fence provides a location with the best security barriers. We can practically cover miles of ground surrounding construction sites. This will assist in giving the right guidance to steer people away from construction-related risks or toward secure locations.
Implementation of the Heras fence in another location:
This fence solution is applicable to building and construction areas.
Include all outdoor events, celebrations, and concerts.
Boundary fencing that is temporary in nature.
Helpful for managing parking and traffic.
Matco Industry is well situated in many countries to give you the necessary fence solution. Contact our staff to discuss your needs if you're searching for any kind of fence solution. We provide you with a whole bundle at reasonable prices. We have a knowledgeable staff that can assist you in creating and erecting a temporary fence to secure the area.